The Reverend Barbara Dawson, Deacon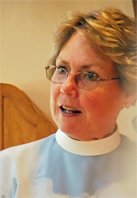 A SPECIAL MESSAGE FROM OUR DEACON
The Reverend Barbara Dawson
I have been blessed and honored to have served as your Deacon for almost 32 years, and each of you has become a part of the fabric of my life, and the lives of my family. But my time with you is quickly coming to an end as you prepare to start a brand new chapter in the life of the parish, and I prepare to start a new chapter in my life.
David and I are hoping to retire from our secular jobs in May and we want to have time together to travel while we are still able to do so.
For many months, I have been in conversation with the Bishop, the Archdeacon for Deacons, and others in the Diocese about my future diaconal ministry and where God is calling me to be.
Since I have been with you all for so long, I feel the strong need to take an extended sabbatical from diaconal ministry to rest and discern where my ministry will take me next. I am tired, and need an opportunity to truly rest, read, play with my grandson (before I'm no longer cool to be with), husband and children, and explore the world around me. I am not retiring from ministry – just taking a break to rest and restore.
I have felt very strongly that I needed to be with you throughout the search process, to support the parish in whatever way I could, and help keep things moving forward. I have been extremely impressed and gratified with the way the entire parish has moved through this challenging "interim" time. The Search Committee and Vestry have taken their duties and responsibilities very seriously and have carefully, and prayerfully, led us all through this period with grace, good humor and dedication. The Rev. Kathy Trapani, and all of the staff, have worked hard to help us explore new things and try out new ideas during this period. I have been blessed to work with each of them – and all of you – during this time.
I was delighted to learn that the Vestry chose The Rev. Liz Tichenor as our new Rector. I am excited for all the gifts she will bring to the Parish and for the new adventure that is just around the corner. While a part of me would truly love to be a part of it, deep in my heart I know that God is calling me to something, and some place, new and exciting that I can't even imagine yet.
I will be with you for a few more weeks as we close out this chapter of our Parish life and open our doors wide to welcome Liz and her family. My last Sunday will be Sunday, January 5, 2020, so we will have Advent and Christmas together.
I cannot thank you enough for the love, care and support you have given me, and my family, since we arrived at Resurrection the 1st Sunday of November 1987. It seems like just yesterday, but we have had so many wonderful adventures together over the years, shared countless stories, fun events, building projects, losses, tears, and endless laughter, throughout that time. There are no words that are adequate to express how much you have given to me and how grateful I am for being able to minister with you during our time together.
I will miss you more than you can know, but will be eagerly following your adventures as you move forward into your future, under Liz's capable and guiding hands, to love and serve the Lord.
In His Peace,
Barb
Barbara was born into an Air Force family and spent her early years living all over the country. When her father retired, the family settled in Southern California, where she went to high school and college. She met her husband, David, her first week of college at the University of Southern California. They wed at the end of Barbara's junior year when David began his Navy commitment. The Navy took them to San Diego where Barbara graduated from San Diego State University with a degree in Social Science.

After David left the Navy, the couple lived in Long Beach, CA for several years before David's job took them to Salt Lake City, Utah. During their seven years in Salt Lake, Barbara studied for the permanent diaconate and was ordained a deacon in 1985 in the Diocese of Utah. Two years later, David took a job in San Francisco, and the family moved to the Bay Area where they have lived ever since, currently residing in Concord.

Barb began serving as the deacon at Church of the Resurrection in the fall of 1987. She became canonically resident in the Diocese of California in 2006.

In addition to her church activities and ministry, Barbara works full time as a homeowner association portfolio manager, currently managing
8 HOAs in the East Bay.

The Dawsons have two adult children and one grandson, all living in various places in California. They are avid USC football fans and enjoy a friendly rivalry with their friends from other schools. Barb loves to read, do needlework, travel, sing, and spend time with her family and friends.