Colleen Henry, Music Director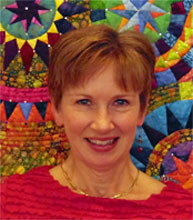 For as long as she can remember, Colleen has had a passion for music. Her roots are in Orange County, where she began her piano studies and gained her initial experience in choral and church music as an accompanist. Because her high school church music director afforded her many opportunities to share her musicianship in church, she places a high value in paying that gift forward by including youth in the music of the church as much as possible.
During the college years, Colleen studied organ at Wheaton College in Illinois while pursuing a bachelor's degree in mathematics. Afterward she spent several years in a high tech software career and moonlighting in musical theater and church music. She eventually returned to school to earn a music degree at Berklee College of Music in Boston. She ended up staying in Boston for 17 years, during which time she became a full-time independent professional musician, earning her keep as a church music director, private piano instructor and performer. She also completed a Master of Music degree in Collaborative Piano at Longy School of Music in Cambridge, Massachusetts. Upon returning home to California, she earned her teaching credential and is now also teaching high school choir and keyboard in Concord when she is not working at the church. In her spare time, she enjoys skiing, biking, reading and gardening.