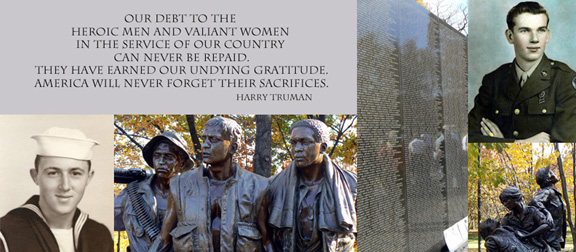 Those in the military service are exposed not only to physical wounds but also to mental, emotional, and spiritual wounds. These wounds impact not only the veteran but also family, friend
s, and coworkers. One indicator of the psychological casualty rate in the United States military is that, in 2012, more service men and women died as a result of suicide than in combat.

Recognizing that veterans and their families need help to heal those wounds, the Church of the Resurrection has instituted a ministry whose mission is to:
Assist veterans, especially those who have faced or are facing combat, and their families, to heal their mental, emotional, and spiritual wounds; and

raise community awareness of the needs of veterans and their families.
"Veteran" includes current as well as former members of the armed
forces, and "family" includes partners, care-takers, and other loved ones.

"Post-traumatic stress disorder" ("PTSD") is an emotional disorder stemming from significant stress. PTSD severely impacts a significant percentage of veterans, especially those who have been in combat and their families.


For a number of reasons there are gaping holes in the care that veterans receive from the government for injuries that are primarily psychological. Forgiving those who have caused harm to the veteran seeking forgiveness from those whom the veteran has harmed, and forgiving oneself for real or imagined faults are all necessary to overcome PTSD.

We will ensure that veterans and their families regard the Church of the Resurrection a welcoming and safe place, and we will demonstrate our respect and appreciation for them by:
Including them in our communal prayer, especially in conjunction with special days such as Memorial Day;

Encouraging military honors in services for deceased veterans;

Providing educational programs and materials;

Providing one-on-one and group support;

Connecting them with services we do not provide.
At-risk veterans and their families will often have needs that the Church cannot meet such as suicide prevention counseling, food, clothing & shelter, mental health and substance abuse counseling, job training and placement, and legal assistance.