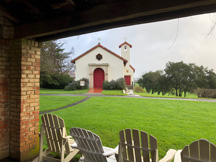 The Women's Retreat will take place in October this year from Friday, Oct. 4 through Sunday, Oct. 6, up at The Bishop's Ranch outside of Healdsburg in Sonoma County. Again this year, we will be staying in Harrison House. Our accommodation is equipped with five comfortable bedrooms each with its own bathroom, a large meeting room with seating for up to 20, an outdoor deck overlooking the fall vineyards and a full kitchen. The cost will be $250 for 2 nights' lodging and 5 meals prepared for us. We're still working on the program, but it's bound to be great.
If you are interested in reserving a space, please write a check to "Church of the Resurrection" for $100 with "2019 Women's Retreat" on the memo line and either hand it to Theresa Nagle at Church or place it in the plate as soon as possible. Hope to share a great, relaxing weekend with you! Any questions, please contact Theresa Nagle at
nagletheresa@hotmail.com
or 925.256.7059.