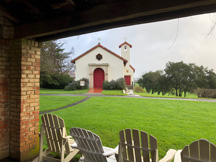 2020 Women's Retreat Cancelled
It's with great regret that we're cancelling this year's Women's Retreat in early October. The Ranch, in accordance with the Sonoma County authorities, has limited rentals across the 30 odd rooms available to families living together and single people. So in Harrison House, we could only have a minimum of 5 to a maximum of 9 (if a family group were to join us). Instead, we've decided to reserve Harrison House again for 2021.
The dates will likely be October 1--3, 2021
so you can save them if you remain interested. While we remain disappointed, at least no one will blame the Women's Retreat for any Covid-19 outbreaks! If you have any questions, please do not hesitate to contact Theresa Nagle at
nagletheresa@hotmail.com
or 925.858.8014.