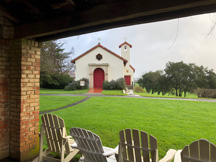 2020 Women's Retreat
October 2 - 4, 2020
This year's Women's Retreat will take place at The Bishop's Ranch just outside of Healdsburg in Sonoma County beginning Friday, October 2, through Sunday, October 4, 2020. We will again occupy Harrison House, just down the hill from St. George's Chapel, and will be able to enjoy its lovely outdoor terrace, large living room meeting space and kitchen. While the program is still coming together, I wanted all with an interest in attending to know of the dates and be able to get themselves on the list of those interested in attending. Full cost for the two cozy nights and five wonderful meals will be $250, with a $100 deposit due to Theresa Nagle by June 14 at the latest.
If you have any questions, please do not hesitate to contact Theresa either at church on Sunday, or by calling her at 925.858.8014 or by emailing her at nagletheresa@hotmail.com. See you up at The Ranch!