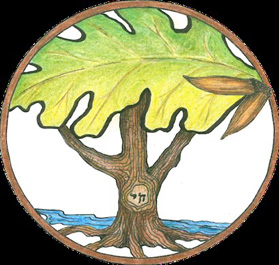 Tree of Life
Kids' Connections
August 18 - November 24, 2019
The Episcopal Church of the Resurrection

Creation Care: Sunday Mornings with Holy Communion
The Bible is filled with trees – in stories, prayers, prophetic visions, and Jesus' teaching about the Kingdom of Heaven. With the trees in the Bible we discover lessons about growth, provision, relationships of living things, faith, and God as the Creator and life-giver of all. This fall at the Episcopal Church of the Resurrection, kids in kindergarten through grade 5 gather on Sunday mornings for learning, exploration, and spiritual sharing. Through scripture and sacred stories, tree ecology, field treks on our lush campus, attentive observation, science experiments, art and group games, we explore the relationships between trees and other living things -- and between the earth and ourselves. As we learn about the ecology of trees, we imagine and wonder deeply about the vision and wisdom of Hebrew scriptures and Jesus' parables of trees, seeds, and vines to understand the interconnectedness of us all: with God, with one another, and with the earth we share. Through our questions, discoveries, and joyful learning, we seek to grow in our care of creation: meditating on natural beauty, digging our hands into leaves and dirt, watching the world with wonder, giving thanks to the Spirit of life.
Children join the congregation for the Eucharistic prayer and Holy Communion.
Becoming Beloved Community: Saturday treks
On Saturday family fieldtrips we take our learning farther afield for exploration, fellowship and fun. Meet up for a hike in the morning; stay for lunch and a museum visit. Families may join for the morning, the afternoon, or for all! (
Head to Grace Cathedral for the Harry Potter Day in November!)
As we venture forth into our beautiful Bay Area, we shine a spotlight on the "trees of life" of California (oak; redwoods and Giant Sequoias; eucalyptus; and palm) and learn more about the peoples who have lived with them and cared for them through the centuries. Let us become friends of the earth, friends with each other, and friends of God!
Save the dates: September 7 and 21; October 19; November 16; *December 14
The Tree of Life curriculum is being developed by
The Rev. Stephanie M. Green,
With the children's ministers and community of
The Episcopal Church of the Resurrection

*Children and teachers will resume Godly Play-style faith formation in Advent.
A printable fall schedule is found
here
.