Children's Faith Formation
Children are valued and nurtured here and we have a commitment to help them grow faith. We are committed to raising up kids who know themselves and seek to know God. Children (and their parents) are welcome anywhere at Church of the Resurrection -in the service where we keep kids books and art supplies for them, in the nursery, in Sunday school and in our Bagels & Bible program. All staff and volunteers who work with kids have been background-checked with the state of California and been trained in recognizing and preventing child-abuse. See below for a calendar of children's activities.
In Church
Kids are welcome to sit with their parents in the pews or to read books and color in our kids corner at the front left of the sanctuary, where they have a clear view of everything that takes place at the altar. Every five weeks we offer a children's and youth service which is designed especially for the young people of our community. Our worship is lively and kid-friendly and is often punctuated with the laughter and chatter of our community's kids.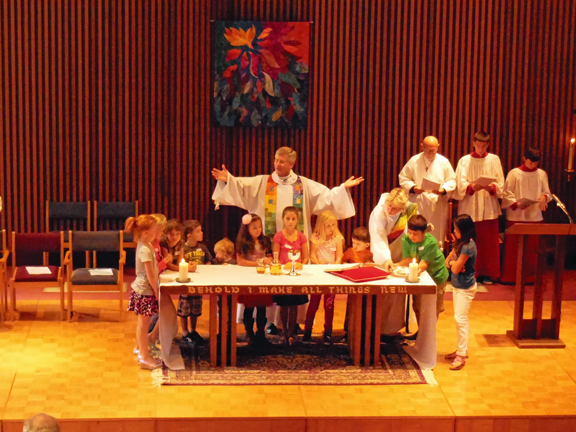 Church Nursery
Our nursery operates during both Sunday services, at 8:00 and 10:15 AM. Parents are welcome to drop their kids off in the nursery for all or part of the service or to join their kids in the nursery.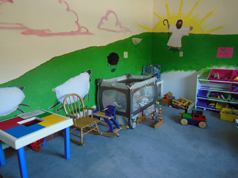 Sunday School - Godly Play Program
Sunday school is offered most Sunday mornings during the 10:15 AM service. We use and excellent curriculum called Godly Play, which tells the great stories of the Bible and our tradition and asks the kids to interpret them in their own lives. We separate kids into two groups: Pre-K through third grade and grades four and five. Sunday schoolers join their parents and the rest of the congregation at The Peace, for communion and the end of the service. You can learn more about Godly Play HERE.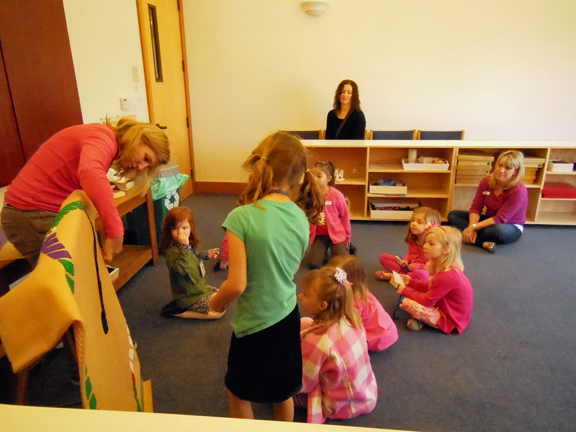 Bagels & Bible
During the 10:15 service kids in grades 6-12 gather to eat bagels and cream cheese and creatively discuss the Bible readings of the day. We offer separate gatherings for middle schoolers and high schoolers. The youth join their parents and the rest of the congregation at The Peace, for communion and the end of the service.