Church of the Resurrection Welcomes You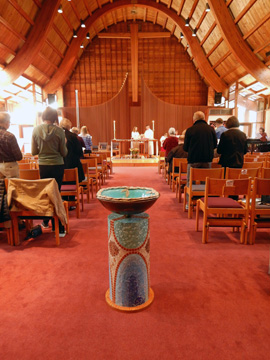 I was glad when they said to me,"Let us go to the house of the
Lord
!"
Psalm 122:1
Our Sunday Services are at 8:00 am (sermon and communion without music) and 10:15 am (sermon and communion with music and church school for preschool through 5th grade).

For dress, wear what is comfortable, whether it be suit and tie or dress, t-shirt and shorts, hoodie and jeans — most of our congregation land somewhere in the middle.

Holy Eucharist or Holy Communion is held at both the 8:00 am and 10:15 am Sunday services. Everyone is welcome at our altar. During non-pandemic times, we serve both wine and grape juice, though we are not currently sharing the common cup. Currently, we offer wheat and gluten-free bread during communion. You can read about our worship practices during Covid-19 here.

Church of the Resurrection is an Episcopal Church and our services draw the Book of Common Prayer, as well as other liturgies from around the Anglican Communion. We provide a service leaflet containing everything you need for the service.

The 8:00 am service lasts about 45 minutes with a coffee hour afterwards on the patio. The 10:15 am service lasts around an hour and fifteen minutes and it is also followed by a coffee hour on our patio. This is a wonderful opportunity for fellowship.

Many younger children are in church school during the first half of the 10:15 am service and join their family with the congregation during the Peace for communion and the rest of the service. That said, children are most welcome to stay in the sanctuary for the entirety of the service, and some families choose to spend the whole service together this way.

There is a sermon at both Sunday services and the sermons generally last between 10 and 15 minutes.

Please take a few minutes to search our website for more information. If you have access to Facebook, please see our Facebook Group,
Church of the Resurrection - Pleasant Hill, CA or Facebook Page, Episcopal Church of the Resurrection - Pleasant Hill, CA.
If you have any additional questions or comments, please feel free to contact the church during office hours 925-685-2288 or email the office: office@resurrectionph.org.